Tommy "Three Ice-Creams in One" Napolitan is one rider who's progression has been apparent over the years.  Starting back in 2001, basically all he did was no footers and 1 handers, mostly on flat.  He learned double tailwhips in 2004, and got AJ Storcella into riding, and started progressing faster.  But, according to Tommy, "06 is when my riding seriously boomed."  In late 06 he started riding The Incline Club often, learning tons of new tricks.  It wasn't until early 08 that Tommy started putting more of an emphasis on street riding.  Today Tommy loves doing triples flat, front scooterflips, and is always trying to figure out what combos he can pull off on a ledge (not to mention some legit handrails, as seen in the below photo and video).  Tommy Napolitan has become a street (and flatground) beast, and his new French ID sponsorship is well deserved.
Intro and interview by Jordan Jasa.
When did you first become interested in getting on the French ID Team?
After i saw there 2008 video i realized how legit they were. I talked to Mckeen about them and he said they were an awesome company. Also not many people know about them in the US it seems so why not go for the team no one really heres about.
How did it feel when you knew you had a spot on the team?
It was awesome. I was really stoked and wanted to tell my friend Eric who always used to joke with me whenever i didnt land a trick near him. He would say "How you gonna get on French ID riding like that". I also felt kind of accomplished because i really worked hard to get on.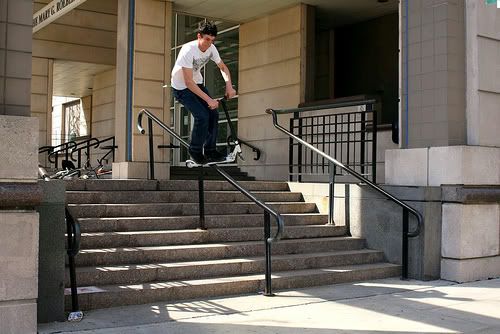 What does it mean to you to be on a sponsored team that includes the likes of Matt McKeen, Jean-Yves (Jandiv), and all those other amazing riders?
It means a lot that my riding could some what be compared to the riders that have been on that team in the past and to be "the new generation" French ID Team.
What are you looking forward to most about being on the team?
I want to spread merchandise in the US because i know they're havin a tough time with money right now. Also i've always wanted to ride there parts. There muffin scooters and bars are so sick.
Now that you are on a French team…are you gonna brush up on your French?
Hahaha it's funny you say that because while BenJ was in NYC he tried to teach me French but it's hard. I know some basic stuff but nothing fancy. I guess im going to have to learn when i go over there.
That'll be it, thanks Tom, good luck with the team.
Yeah no problem. And thanks, i can see myself pushing my riding even more now that i'm on a legit team.
French ID Sponsor Video from Tnips15 on Vimeo.