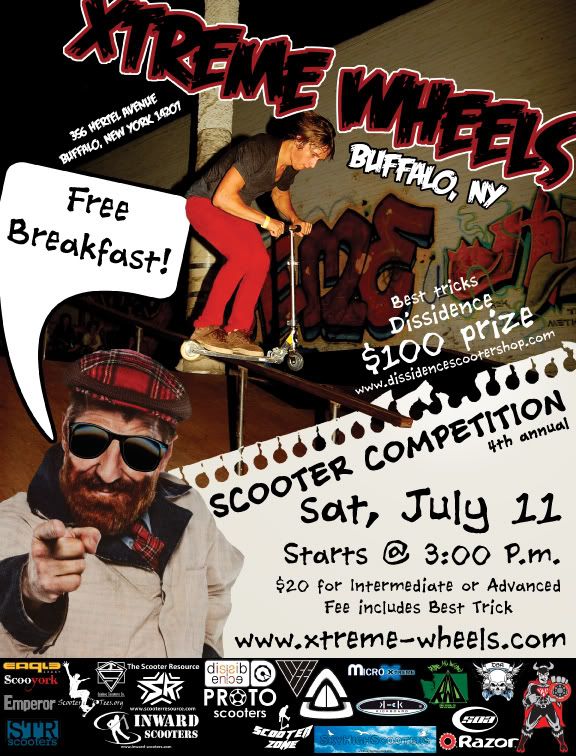 On July 11th the 4th annual Xtreme Wheels Scooter Competition will be taking place in Buffalo, New York. This is without a doubt one of the biggest competitions every year it happens. But how did it start? Who decided to start supporting our sport and allowing us to have annual competitions at one of the best indoor skate parks on the east coast? The answer, Virginia Clark.
    Virginia Clark, along with her husband Robert Clark, and business associate William Shylo own the Xtreme Wheels Skatepark. She actually lives in an apartment right above the skatepark. They opened the XW park in late 2003. About a year into the park being open she was approached by one our fellow riders by the name of Alex Schad. He asked Virginia if she was interested in holding a scooter competition at XW. Alex explained to her that there weren't that many skateparks that were supporting or allowing competitions for scooters. Virginia liked the idea, and decided she would hold the first scooter competition at XW. The competition was a complete success. With riders showing  up from all over the United States to compete. Since then Virginia has made the competition an annual event. This upcoming contest will be the 4th.
    Now before this successful first competition, Virginia really didn't know what to expect from the sport of scootering. However, after seeing the amount of riders that showed up to that eventful contest, and the talent they all had, she instantly became a fan and a strong supporter. She had never thought the things she saw being done were even possible on a scooter, and in short, she was in awe. When she started holding these contests she honestly didn't think the sport would grow to what it currently is today. She and a lot of others feel that it's the sport's riders that act as such a tight knit community, and the growing amount of supporters like herself, that have helped get the sport to where it is today. Virginia has no plans of stopping the annual XW Scooter Competition. As long as the riders continue to support the contest every year, she will continue to have the contest. However, she does have one small concern. She hopes that people are coming to the contest each year to compete, and not just coming for the amazing free breakfast she puts out for everyone! Haha.
    With three competitions down and another to come shortly there have undoubtedly been a lot of memorable moments at the past contests. Although out of them all, there is one that will stay with Virginia forever. At the very first contest to be held at XW, a young local rider who didn't have the most experience had came to the skatepark. Seeing some of the professional riders there, left him feeling nervous and intimidated. Despite this, he went on to compete in the contest. He would end up taking last place. Standing by watching as all the awards and prizes were being handed out to the riders above him. After the awards ceremony was over, The Razor Team walked up to the young rider, and gave him a brand new scooter. The smile on his face said it all, and the tears his mother cried said even more. This is one memory that Virginia will keep with her forever.
    I hope that you now know a little bit more about the amazing person behind the XW Competitions. She's not just a good person, not just a friend, or an owner of a skatepark. Virginia Clark is one of scootering's biggest supporters. People like her don't come around very often, and we should all be thankful for her endless amount of support. While she supports us, it seems that a rather large amount of companies have decided to support her and the competition. With a staggering amount of sponsors for this years competition. I will end this article with the entire list of sponsors below. Thanks again Virginia!
Intro by Steven Tongson
Interview by Jordan Jasa
Jordan Jasa:  You certainly seem to be one of the most enthusiastic and supporting park owners I've seen.  What makes you so supportive of our sport?
Virginia Clark:  I am so supportive of scootering for a variety of reasons: First, and foremost, the sport if so fun. I see so many amazing tricks done on scooters. It takes guts to land some of the tricks I have seen. I have seen some tremendous spills from time to time and the riders get back up like nothing happened at all! Secondly, the scooter community is a tight knit group. Everyone supports everyone in the industry. It is a different attitude from the skateboarders, inliners and bmx'ers that come to Xtreme Wheels.
The annual XW Competition is, I believe, the longest running scooter comp in the US.  What keeps it running so strong?
I was not aware that we are the longest running competition, that is great news. I work very hard for our scooter patrons and my enthusiasm is part of what keeps it so strong. I radiate an infectious energy that gives our contests an added plus. My prize packs and trophies are worth competing for too!
How have the turnouts been for past XW comps?  Have they been what you expected to get?
The turnouts have been better than I expected. Our first competition surprised me, I was not expecting many competitors being our first event. Low and behold, we had over 50 participants.  The field has grown each year and I expect between 80 and 100 participants this year.
Matt Dibble also helps a lot with organizing XW.  In what ways does he help?
If it were not for Matt Dibble, I would not have successful results. He has introduced me to all the right contacts, helped me know the products for our retail center to stock, helped me reach the scooter community via videos and message boards, and best of all: Matt Dibble and Miles Quirk make the best flyers for distribution!

Nextsport is going to play a big part in XW4's competition with the "Raise The Gnar Tour".  What exactly is this going to entail?  Is it a separate event from the normal competition, or..?
I am excited to host the first stop for the "Raise the Gnar Tour". Nextsport participated in our 2nd Annual Scooter Competition in 2007. It is a pleasure to have them return this year and an honor to be the first stop on the tour.  The "Raise the Gnar Tour" is a separate competition within our competition. They have thousands of dollars in prizes to award and have a contest criteria that is different that the scooter competition contest criteria making both events diverse and exciting.


How big are the scooter comps compared to the bmx/skating comps XW holds?
Because the scooter comp is an annual event, I get the largest turnout of all contests we host.  The skateboard, inline skating, and bmx contests get good turnouts, but not like the scooter comp turn outs.
What are you looking forward to most about the upcoming XW competition?
I just love the best trick part of the contest. This is where the true dare devils take to the ramps to out do one another. The prizes for the best trick winner are most coveted.
What kind of prizes can we expect to be available for the winners?
The prizes! Wow! I try to give the winners the best prize packs I can possibly give. The prizes packs contain trophies, scooters, scooter parts and accessories, tees, hats, belts , stickers and more. The prize packs contain some unusual items that are fun. I won't give away this years surprise.  Because most competitors travel great distances to come to XW, I have packed their prize packs in duffle bags so they can easily transport their prizes back home.  This year our sponsors were quite generous, so the prize packs are looking real good right now.
Finally, I have to ask…What's all included in the free breakfast?
Ha! The free breakfast was my brain child last year. After hosting a few contests, I realized how expensive it is for our customers to travel here. Between lodging, car rentals, airline tickets, train tickets, bus fare, gas for those who drive here, and contest fees I thought I could provide a meal to help alleviate some costs.  I serve a variety of foods like pancakes, waffles, bagels, pastries, sausages, egg sandwiches, fruit, juice, and pizza. Can't forget pizza, it is the breakfast of champions!
Visit the Xtreme-wheels website here. Www.xtreme-wheels.com
XW 09 Sponsor List:
WEE Scooters
Eaglesport
Sky High Scooters
Kyle Rudolph
Quebec Scooters
RAD Scooters
National Sporting Goods
PROTO
Scooter Resource
Riverside Scooters
Scooters Only
Dissidence Scooter Shop
Micro
Exode
STR Scooters
ScooYork
Limit Scooters
Dominator Scooter Accessories
Razor
Inward Scooters
Scooter Zone
and YAK.